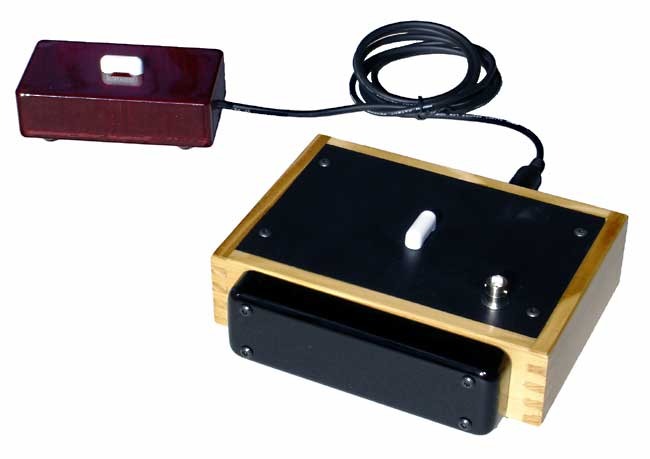 Sound Choice Model SC-186Kx2 Infrared Audio Transmitter
(actual size: 6 1/2" wide x 5" deep x 1 3/4" high)
shown with Model SC-MEB Auxiliary Microphone Emitter Box (4 3/8" long x 2 1/2" deep x 1 5/8" high)
---
OVERVIEW
The SC-186Kx2 is a specialized 2 channel version of our flagship model SC-186K. The two independent infrared transmission channels optically broadcast the same audio with one important distinction.
For hearing disabled users listening under Americans With Disabilities Act requirements, the judge or clerk can mute the audio heard by the listener on one channel during sidebars or other private discussions, as with the single channel model SC-186K.


For defendants and other trial participants who must be given audio access to the same sidebars and private discussions, the second channel will never be muted even when the same audio is muted on the first channel for a juror or other listener. This complies with recent court rulings about the rights of defendants to hear sidebar discussions.
The SC-186Kx2 can be used with its complimentary accessory Model SC-MEB (Microphone and Emitter Box shown above). The SC-MEB adds both a second matching microphone to the basic transmitter's on-board microphone and a second auxiliary infrared emitter which extends the range of the on-board main emitter of the basic transmitter. This accessory can be critical in making sure that during a sidebar, the main optical infrared emitter is not physically blocked by lawyers and prosecutors clustered at the judge's bench. At the same time, the extra microphone assures that the sidebar conversation is picked up and transmitted to a seated defendant.
FEATURES
Completely self-contained transmitting system; each channel covers more than 1000 square feet.
Instant basic setup - no microphones to attach, no controls to set.
Small portable size 6 1/2" x 5" x 1 3/4" (16.5 cm x 12.7 cm x 4.5 cm) 1.4 lbs. (0.63 kg)
Built-in Sound Choice Special Design boundary effect microphone, the best microphone technology available for wide-area sound pickup.
High-gain, low-noise BiFET preamplifier circuitry.
Automatic Gain Control continuously adjusts transmission volume.
Peak Limiter automatically prevents loud sounds from causing distortion. Instant response time catches even unexpected events.
Multiband internal audio equalization for improved intelligibility.
Genuine natural wood enclosure over aluminum chassis.
Highly efficient wide-area infrared LED emitter system. Infrared transmission insures confidentiality. Much smaller than conventional separate LED array panels.
Uses standard infrared transmitting frequencies of 2.3 mHz and 2.8 mHz.
External microphone/line input jack for transmission of other sound sources.
Line output jack for making transcription recordings.
Powerful, cool-operating internal digital switching power regulator.
Includes UL approved AC wall block transformer.
also works in conjunction with:
Optional SC-360 Emitter Disk transmits in a 360 degree pattern.
note: the SC-360 is generally not necessary if the SC-MEB is being used.
Optional SC-RMS Remote Mute Switch for conversational privacy.
note: the SC-RMS is a required accessory to make use of the privacy muting feature of the SC-186Kx2
Sound Choice SC-MEB Microphone and Emitter Box which adds a second microphone and second auxiliary infrared emitter in a single convenient box.
---
The Sound Choice Model SC-186K is a compact wireless infrared audio transmitting system. The unit is completely self-contained and includes a super-sensitive Sound Choice Special Design microphone or a Crown PZM® microphone (by special order only). Its high gain internal pre-amplifier makes even the faintest sounds audible. The Sound Choice Model SC-186K system incorporates a powerful infrared emitter which broadcasts audio over invisible infrared light waves. The infrared transmission is received by high-gain headsets worn by those needing hearing assistance. Styled in a dignified natural wood case, the transmitter blends with both traditional and modern government, courtroom or commercial settings.
The Sound Choice Model SC-186K system has built-in equalization circuits which de-emphasize the undesirable rumble of air conditioners, traffic and fans while emphasizing frequencies that contribute to the crispness and intelligibility of speech. Its built-in compressor/peak limiter automatically adjusts the volume so that speakers in close proximity to the unit will not cause distortion in the receivers. Distant speakers are automatically boosted in volume, while unexpected peaks are instantly attenuated.
The SC-186K has the ability to integrate into an existing sound system or utilize the unit's own highly sensitive self-contained microphone. There is also an output jack included for transcription recording.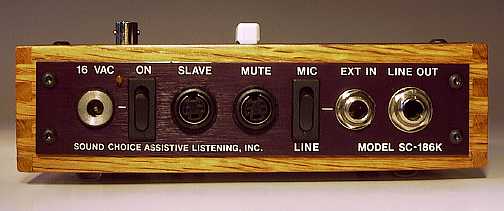 Rear View (actual width is 6 1/2 inches)
---
TYPICAL USE LOCATIONS:
Courtrooms
Government Hearing Rooms
Classrooms
Small Auditoriums
Nursing Homes
Conference Centers
Libraries
Corporate Meetings
Conference Rooms
Medical Conferences
Lecture Halls
Museums
Hotels
Convention Centers
Descriptive Narrative for the Blind
Simultaneous Lanuguage Translation
---
TECHNICAL SPECIFICATIONS:
Microphone: Sound Choice Special Design
Preamplifier: Low-noise BiFET circuitry with automatic gain control and peak limiting
1/4" Input Jack switchable for mic or line levels (unbalanced)
1/4" Line Output Jack (unbalanced)
BNC Connector for optional 360 degree Emitter Disk
MiniDIN Connectors for optional Remote Mute Switch and Slave device (such as the SC-MEB Microphone and Emitter Box.)
Equalization: Low end rolloff below 150 Hz; 50 microsecond pre-emphasis
Infrared transmission: 2 simultaneous transmissions of 880 nm, IEC 764 Standard 2.3 or 2.8 mHz infrared audio
Optical output: main IR beam greater than 450 mW; 120 degree beam dispersion
AC Power requirements: 125 volts AC to 16 volts AC, UL approved 1 Amp wall block transformer (included)
Dimensions: 6 1/2" x 5" x 1 3/4" (16.5 cm x 12.7 cm x 4.5 cm); 1.4 lbs. (0.63 kg)
---
BLOCK DIAGRAMS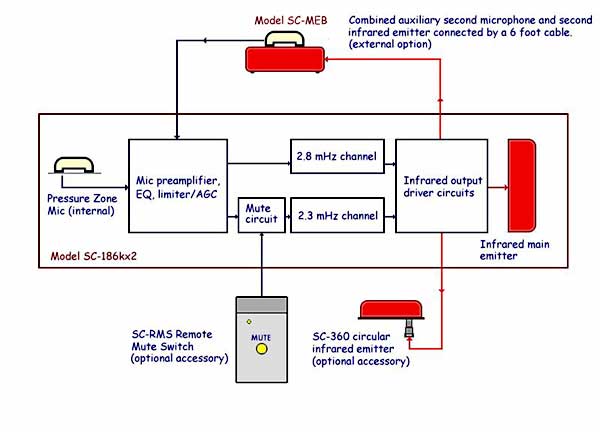 ---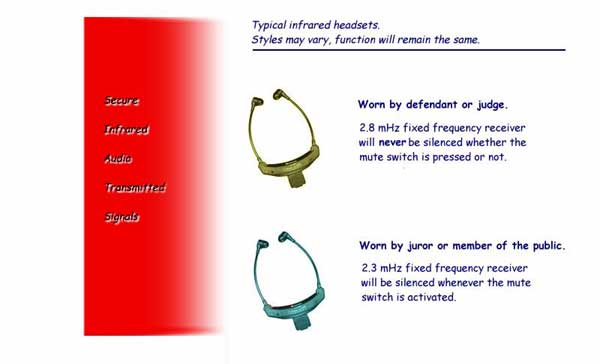 ---
BID SPECIFICATIONS
Please click for the architectural and technical engineering bid specifications: html or .pdf format
---
MANUAL

Please click for the SC-186Kx2 manual in
.pdf
format
---
The SC-186Kx2 uses technology developed by Synergy® Electronic Music, Inc. and licensed exclusively to Sound Choice Assistive Listening, Inc.
Made in USA
US Patent Nos. 5,548,654 and 5,596,648. Other patents pending.
Specifications subject to change without notice.


---
Sound Choice Assistive Listening, Inc.
498 Long Hill Road
Gillette, New Jersey 07933 USA
toll free: 877-896-5048
908-647-2650 fax: please call for fax number
Pennsylvania numbers: 215-230-8600 fax: please call for fax number
email: sndchoice@aol.com
www.assistivelistening.net
---