Sound Choice has been shipping SC186K transmitters since 1994. Over the years, upgrades have been incorporated which have more than doubled the range of the infrared coverage using newer LED emitters, improved microphones with better sensitivity and response, and integrated reliability enhancements to the internal circuitry as newer electronic components have become available. Most importantly, we have introduced newer ISO standard transmitting frequencies of 2.3 mHz and 2.8 mHz as they have become the preferred industry standards.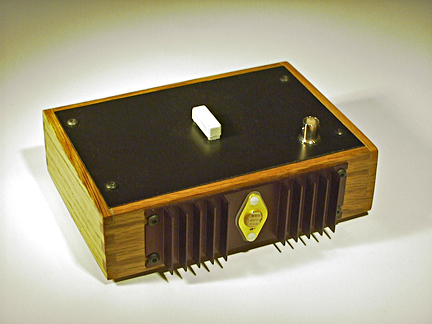 Sound Choice SC186k 95 kHz or 250 kHz transmitter circa 1999
Some of these changes have been necessitated as low-energy room lighting can cause audible interference and diminished transmitting range at some locations using the lower transmitting frequencies. We have shipped many transmitters using the lower 95 kHz or 250 kHz frequencies which have been operating successfully for decades. However, even without interference problems the matching receivers operating at 95 kHz and 250 kHz are becoming more difficult to maintain. The receiver manufacturers are discontinuing devices capable of receiving these lower frequencies and repair parts are becoming almost impossible to find. Sound Choice hasn't shipped a new transmitter using these low frequencies for nearly ten years. All current products shipped are using the 2.3mHz and 2.8 mHz standards.
However, to take advantage of these improvements it is not necessary to completely replace older transmitters. Sound Choice can upgrade earlier, out of warranty transmitters to the current 2.3 mHz /2.8 mHz standards and incorporate most of the circuity upgrades used in the devices shipping now. Upgrade pricing will vary depending on the age and carrier frequency of the original transmitters, but in every case it will be less expensive than buying a new transmitter. Upgrades are re-warranted for the same three year terms as new units. Of course, any transmitter that is upgraded to the modern frequencies will require the purchase of new receivers at matching frequencies. These too will be under warranty and perform better than older receivers did in past years. Quantity pricing is available.
We have intentionally kept the user interface of the SK186k the same since the first units shipped so that staff retraining is not necessary. Your upgraded and updated transmitter will be operated exactly as it always was.
Contact us with your serial numbers for pricing and scheduling of upgrades. We will consult with you about the best compliment of newer receivers which match your needs and budget.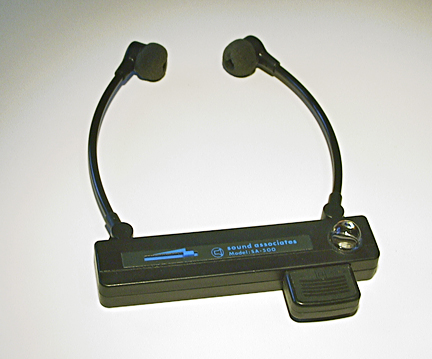 Sound Associates SA-500 95 kHz or 250 kHz receiver circa 1999
---
Sound Choice Assistive Listening, Inc.
498 Long Hill Road
Gillette, New Jersey 07933 USA
toll free: 877-896-5048
908-647-2650 fax: please call for fax number
Pennsylvania numbers: 215-230-8600 fax: please call for fax number
email: sndchoice@aol.com
www.assistivelistening.net
---